A group of us sat around the tables Sunday evening in the fellowship hall, awaiting the lasagnas still steaming in the corner as the gathering was opened with prayer. A church potluck? Not exactly. Lisa and I had been invited to the Gay/Lesbian Services Organization
(GLSO)
Awards Banquent, and so we were seated at the tables of the Unitarian Universalist Church on Clay's Mill Road. The GLSO, as the name implies, is an association of organizations involved in service to the gay community, including
AVOL
,
Movable Feast
,
Pride of the Bluegrass
, and
GSA
.

(There's more)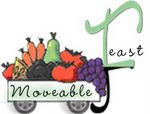 Lisa and I were there as guests of Movable Feast, which delivers free meals nightly in the greater Lexington area to those living with HIV/AIDS and Bluegrass Hospice patients. Having volunteered with them for the past four years, including a summer of working full-time in the kitchen, Lisa was unknowingly designated their "volunteer of the year" for the banquet.

During the course of the ceremony, Terry, the director of Moveable Feast, stood up front and described Lisa's dedication and service and invited her up to be recognized. She received her award with a hug... and came back again to sit next to me at the table, as probably the only straight couple in the crowd.

I, for one, was thankful to be carried on her coattails to this Kingdom event.