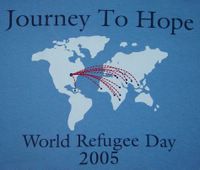 June 20th is World Refugee Day.
This year the theme is
courage:
the courage it takes to overcome staggering adversity and to survive resettlement.
we celebrate the profound gift of courage and how much we can learn from these dislocated people who make their homes in a strange land.
If you are in lexington please come and celebrate and remember with us at Phoenix Park (downtown, next to the Central Library).
11:30am-1:00pm

It is a
brown bag
event and there will be
children's activities
and
great music courtesy of the Big Maracas
.
There is also a small photo display on the second floor of the downtown branch of the public library.
T-Shirts (with the map and text above) will be available for purchase...
if you live in other places, check out the
UNHCR
page or your local Refugee settlement agency for celebrations near you.
we relish the chance to care for the stranger in our midst because it is an essential part of the good news of the kingdom coming.