...is the album title for one of our favorite Half-Handed Cloud albums.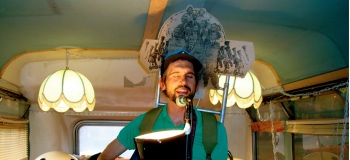 last night my dear wife and i went out to enjoy some live music. with the almost-3-year-old and the 4.30am work schedule we are not often out in the evenings...but this was a special gig. mr john ringhofer (otherwise known as half-handed cloud) is an uplifting and joyous artist who is worth every bit of tiredness this morning. now, some of you who have endured my half-handed cloud evangelism will be laughing and whispering under your breath that the experimental sounds of h-hc are at best elmo-esque and at worst, boring and/or confusing. but we love john and his unusual optimism, his sounds and his gospel message. john's recent claim to fame has been his tour as a member of
sufjan stevens'
band but his own music stands alone as some of the most inspired art i have seen...that is to say, h-hc is more like theatre than just music. we love it.
here is some information about
half handed cloud
from the
asthmatic kitty records
site. the official site for the 'band' is
here
.
liz janes
also played last night. we hadn't heard her before but she has an amazing voice and the title track from her
poison and snakes album
was the highlight of her performance.
altogether three bands played and there was such a sweet sense of family in the space it was easy to forget we were all strangers. this genre of music (not sure what to call it...Indy pop?) levels the playing field or at least diminishes the gap between performer and audience. at one point the first band handed out instruments to invite the audience to join in the music making. it seemed to be the music gig equivalent of an emerging church gathering. after the show we walked out to ride our bikes home and we realized that next door Hank Williams the 3rd was playing. he sounded pretty good but no match for h-hc.